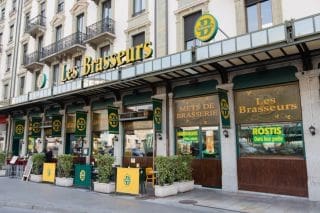 ---
Place Cornavin 20 1201 Genève
46.210121034006, 6.1440601903103
---
Upcoming EVENTS

Les Brasseurs Geneva
The story of Les Brasseurs begins in 1997, when 4 inspired friends, with complementary knowledge and skills, decided to set up their own traditional micro-brewery in French speaking Switzerland.
Our concept is clear and simple: in-house production of traditional and high fermentation beers, in a place especially set up for this purpose. Les BRASSEURS' focus on love of the brewing industry and craft of traditional products, creating nostalgic taste beers, leading a friendly attitude.
Established in Geneva (1997), Lausanne (2000), Nyon (2001), Neuchâtel(2007) and Sion(2015), each brewery opens its doors to a new experience: starting with the discovery of process of in-house brewing, through the know-how of the Brew master, present every day in our premises
You will be surrounded by a warm atmosphere, the authenticity of materials (wood, stone, copper, brass …) and custom-made decoration in each brewery: an invitation to share a sociable and open moment with friends, colleagues, alone or in group, men and women …
Les Brasseurs are popular and easy-going breweries. Our customers come with the desire to spend an enjoyable moment with us. Les Brasseurs is also a story of innovation of craft beer: besides the classic beers (blonde, white or amber), throughout the year our customers will find a selection of special beers, with new and surprising spices and flavours.
Adapted for disabled guests
CouplesBusiness MeetingSpecial Occasions
LunchDinnerLate NightDrinks
TakeoutHighchair AvailableAccept Credit cardsTable ServiceServes AlcoholRecommended for locals