---
manage your listing
What is the dashboard
The dashboard is dedicated to you and allows you to maintain profile, information about your and in connection with your listing and your account. It is accessed via your email and password you entered when you registered using the following link


How do I connect to the dashboard?
Either via the email you have received, via the Extranet link at the bottom of our page or following this link
How can I update my business information?
As an owner or representative, you can update your business information at any time via your personal dashboard or directly to the listing sign in page
Note: All updates concerning the contents are screened by our staff and vetted to make sure they benefit travelers and comply with our policies.



Can I upgrade my package?
You can upgrade your listing at any time, via your personal dashboard


manage your listing
Manage my listing ?
Your dashboard is divided in 2 parts
The profile section, this is your profile information and account management.
The "items publishing" section which is your listing which appear on our public pages.
Profile =  Can be modified, updated, or change at any time without restrictions
Items =    Certain part of the public listing cannot be modified, for more information read the following section
Events/Special –  This section is reserved to Corporate members, it allows to present either Events or Special Promotion for their establishment. more information on the following section
 
we have compiled information on "how to complete" your listing to help you get the most of your publication.
We also have publish a step by step instructions
Items that can and cannot be changed
You are welcome to modify as you please the following public information.
Items that can be freely changed
Establishment Name & Title
Opening Hours
Telephone Number
Address & Location on map
Detailed description of services
Direct link to Email and website
Direct Contact form
For Premium and Corporate clients
Direct link to your table reservation provider (restaurant)
For Corporate Clients
Tag line
Promote your Events
Image Gallery
 
Items that cannot be changed:
Items category   ( contact us if you wish to change it)
Item location    (you may not change the country/city for your listing)
The top navigation header on your listing (located inside the content field)
The extra navigation links added to your listing
The SEO score and description (this is added internally)

What's the featured "option" ?
The feature option allows you to provide a greater exposure to your listing but being "featured" atop of search results. It is available to our updated packages




What is the special events
Corporate listing publishers have the option to promote "Special Events"
It allows to Attract customer's attention by listing special events on the events page, on your listing page and on the main city page your establishment is located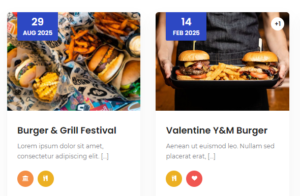 manage your listing
Manage your listing – photos guidelines
Photo Guidelines for Business
In addition to following our standard Photo Guidelines, business owners should take note of a few specifics to keep in mind:
Photos of the property or location are more helpful to travelers than generic pictures such as a scenic view.
Company logos or business cards cannot serve as a primary photo. Contact information cannot be included in the photo.
Primary photo –  select a photo and request it be used as the primary photo.
Photo cannot infringe on copyright from other source.
Additional features and information
Manage your listing
How can I pay for my package?
If you have chosen a "Basic" account the services are FREE
If you have chosen our "Premium" or "Corporate" package, you paid for the first month when you registered.
-> If you chose the recurring option, payment will automatically be processed.
-> If you would like to add the "Subscription" option, you can choose this option in your profile and request it.
I have a message "Maximum items for the current package exceeded"
A listing is available for only one establishment. If you have more establishment or would like to used additional listing and keep the same dashboard. You will need to opt or our "Corporate Package
If you simply want to have several but distinct listing, you may create several accounts, each will have its own dashboard.
What are the payment options?
At this time we only use Paypal as a payment option, it does offer the most flexible option to provide payment for small establishments anywhere in the world




How did my property end up on your site?
If you did not request your property's page, chances are it was created because:
We may have heard about your property from one of our local Editor
We may have come across a reference to your property in an article or guidebook.
Someone might have suggested that we add your establishment to our site
Since your page is already set, claim it now – it's free, and you will be able to update business details, upload photos of your property.
What is a claimed business?
An owner, manager or other representative of a particular business listed on Nodengo.com can "claim" their property in order to start managing their listing. Once an owner or manager has claimed their business and verified their identity, they can update hours of operation, upload photos, and more.
Should I get reviewed ?
A review is the best way to advertise your establishment and let everyone know how good it is. You will also stand out amongst the listing on our site
More information on the reviews process and benefits


---
Need more help : You may want to consult the following pages publishing guidelines – listing content guidelines or contact us
Interested in advertising your establishment – Find out how we offer truly targeted advertising