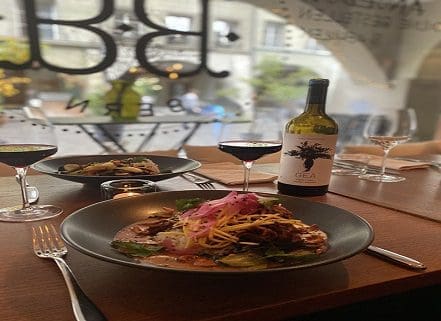 ---
Rathausgasse 18 3011 Bern
46.948457825371, 7.4507576721305
---
12:00pm-2:00pm / 6:00pm-10:00pm
12:00pm-2:00pm / 6:00pm-10:00pm
12:00pm-2:00pm / 6:00pm-11:00pm
12:00pm-2:00pm / 6:00pm-11:00pm
12:00pm-2:00pm / 6:00pm-11:00pm
Upcoming EVENTS

Bonbec
Welcome to the spice kitchen.
Bonbec is a classy little restaurant in the heart of Bern's Old Town.
Its menu is inspired by aromas, traditions and trends from around the world, creating a special venue that blends a wide range of cultures.
The premium, honest ingredients themselves are just as important as putting them to responsible use and ensuring the professional and artistic preparation of the various dishes. It represents a young and dynamic approach to fine dining – challenging convention and experimenting with new ideas.
Vegetarian FriendlyGluten Free options
Accept Credit cardsReservationsTable Service