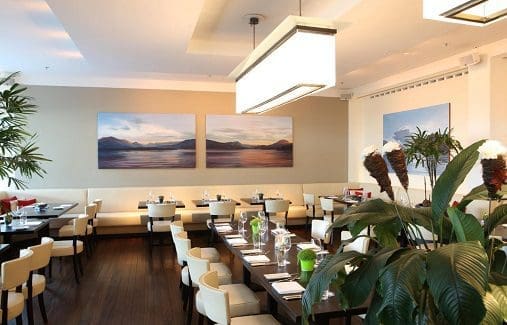 11:30am–2:00pm 6:30pm–12:30am
11:30am–2:00pm 6:30pm–12:30am
11:30am–2:00pm 6:30pm–12:30am
11:30am–2:00pm 6:30pm–12:30am
11:30am–2:00pm 6:30pm–12:30am
11:30am–2:00pm 6:30pm–12:30am
Upcoming EVENTS

Aqua restaurant
It could be New York, London, Barcelona or Paris. But it's not – it's Lucerne.
And of the finest quality.
In the Lakefront Center on Lucerne's Inseliquai, in the immediate vicinity of the train station, the KKL and the lake, an urban and open-minded audience meets in the AQUA RESTAURANT to indulge the mind and the palate.
A cosmopolitan style characterizes the ambience of the modern staged location. This international touch of the AQUA RESTAURANT can also be found in the menu.
Ingeniously combined delicacies from all over the world, classics from the AQUA kitchen and the finest specialties from the region – they are all prepared with care and passion.
Always creative. Always fresh from the market. And always with the aim of offering the guest the best.
The solid French cuisine with influences from the Mediterranean region and a touch of Asia can delight connoisseurs just as much as the wine list, which includes a beautiful selection of carefully selected plants of European provenance.
Adapted for disabled guests
Families with ChildrenCouplesBusiness Meeting
InternationalMediterranean
Highchair AvailableAccept Credit cardsReservationsTable Service